Olufela Olusegun Oludotun Ransome Kuti
(* 15.10.1938 in Abeokuta; † 02.08.1997 in Lagos)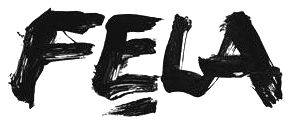 Afrobeat
Ein längerer Aufenthalt in den USA 1969 sollte die Geburtsstunde des Afrobeat werden.
Hier lernte Fela Kuti berühmte Musiker wie James Brown, Miles Davis und Sly Stone kennen. Er traf sich mit Angela Davis, Stokely Carmichael, The Last Poets und verinnerlichte Ansichten der schwarzen Bürgerrechtsbewegung – besonders auch ihrer militanten Strömungen. Diese Erfahrungen flossen nun in seine Musik ein. Ein wichtiger Bestandteil der Band war der Drummer Tony Allen, der zusammen mit Kuti die Musik weiterentwickelte. Die Musik der Band war jetzt eine Mischung aus Funk, Jazz und afrikanischen Einflüssen: Der Afrobeat.
Wikipedia Auszug
Diskografie
Fela Ransome-Kuti and His Koola Lobitos
1965 Fela Ransome-Kuti and the Koola Lobitos
1966? Afro Beat on Stage (Recorded Live at the Afro Spot) (10-Inch)
Fela Ransome-Kuti and The Nigeria 70
In den USA nannte er seine Band Koola Lobitos in Nigeria 70 um.
1969 The '69 Los Angeles Sessions (veröffentlicht 1994)
1970 Fela's London Scene
Fela Ransome-Kuti and The Africa 70
Aufgrund des panafrikanischen Gedankens hat er seine Band umbenannt in Afrika 70.
1971 Fela Fela
1971 Live ! (with Ginger Baker)
1971 Why Black Man Dey Suffer
1972 Stratavarious (Ginger Baker with Fela)
1972 Shakara
1972 Roforofo Fight
1974 Alagbon Close
1975 Noise for Vendor Mouth
1975 Everything Scatter
1975 Kalakuta Show
Fela Anikulapo-Kuti and The Africa 70
Er änderte seinen zweiten Familiennamen Ransome –
Ransome ist ein Name aus der Zeit der Sklaverei und bedeutet "Lösegeld" – in den Namen Anikulapo ("Der Jäger, der den Tod mit magischen Amuletten in Schach hält").
1976 No Bread
1976 Ikoyi Blindness
1976 Before I Jump Like Monkey Give Me Banana
1976 Excuse O
1976 Zombie
1977 Opposite People
1977 Fear Not For Man
1977 Stalemate
1977 Observation No Crime
1977 Johnny Just Drop (J.J.D Live! at Kalakuta Republic)
1977 I Go Shout Plenty
1977 No Agreement
1977 Sorrow, Tears and Blood
1978 Shuffering and Shmiling
1979 Unknown Soldier
1980 Authority Stealing
1981 Black President
1981 Coffin for Head of State
Fela Anikulapo-Kuti and The Egypt 80
Fela initiierte eine neue Band, die Egypt 80, und gründete seine eigene Partei (MOP – Movement of the People)
1983 Perambulator
1985 Army Arrangement
1986 Teacher Don't Teach Me Nonsense
1989 Beasts of No Nation
1989 O.D.O.O. (Overtake Don Overtake Overtake)
1990 Confusion Break Bones
1990 Just Like That
1992 Underground System
Fela Kuti Websites