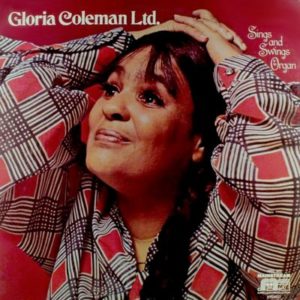 Original Album Liner Notes by Al Roberts:
"At last I've had my chance to stretch out," says Gloria Coleman. Gloria Coleman's LTD ALBUM finally finds this festive female organist singing and swinging in an unlimited fashion.
Gloria Coleman started her quest for musical acclaim in New York, long the mecca for the creative mind, soul, and mystical body of the Black Experience in Sound. This soft and nice, rough and easy delight of female fire playing on an instrument of joy to many parades mightily throws an array of tunes that engage the senses to breathe and roll, satisfying those who will be fortunate to acquire by purchase or gift this album.
Gloria Coleman works mostly in the setting of the trio where the completeness of her tremendous talent on the organ is displayed. She joins to this expertise the mature growth of a voice that profounds the mirth, love, sadness, of the expression of an ageless time.
In the search for a "Love Nest," cut two side two she takes a voyage of understanding to find that place called "home." Knowing home is where the heart is. Burns and Allen the comedy team of stage, screen, radio and tele-vision started and ended their day that way. Gloria Coleman knows the way! Like any sensible woman, she prescribes that the quickest route to a man's heart is through his stomach. "Fungi Mama" cut three side one, the Richard "Blue" Mitchell tasty morsel served selectively, satisfies the most musically discriminating.
Basic Blues is the attire for our date with this engaging artist. She travels with the accompaniment of her long time associate tenor advocate Jimmy Anderson taunting and topically Roaring to the Moon, on Bart Howard's opus to the Brazilian countryside—continuing with Joe Henderson's Blue Bossa side two's open and close. Inventively giving all to a "Blues for Youse," side one's closer. Uhuh —YEAH—you'll DIG it!
"Sunday, Monday or Always" side one cut two and "You Better Go Now" side one cut four, shows depth perception for two ballads of long accepted tenure, applauded by millions. All will continue, stylishly rendered with grace and taste. Gloria leaves nothing out. It's IN!
The opening selection of any album is one that introduces you to the artist and gives you a general idea of what is to take place. I base this test on my years of listening and professional skill as a Disk Jockey and music aficio-nado. Upon hearing "Bugaloo for Ernie" I sat back and relaxed for I knew a musical treat for the ears—the critics—would be pleased!
The up to date pulsating rhythmic cohesive blend of past, present and future is apparent. The exultation of the musicians is in the air. The arrangements done by "Mr." Ernie Wilkens are delightful and richly varied recapitulations of simple melody and folk themes. His credentials stem from a royal association with the Count Basie orchestra and the twofold leadership of the internationally heralded orchestra of Clark Terry. Numerous singers and the many studio bands under Mr. Wilkens' baton are too varied to mention. This also speaks for Gloria Coleman and trio who have played on the same bill with the Regal Splendor of Duke Ellington and the Count from Red Bank, Basie's perennial bunch. All in all, the combined efforts have produced a listenable pleasure for one and all concerned. I strongly recommend Gloria Coleman's LTD. It is worth your attention.