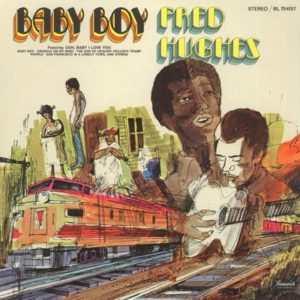 Album Liner Notes:

Every so often an artist comes along with the kind of talent that lots you know what's happening, right now… on artist who says it all his own special way…an artist who sings it like it isl That's a pretty accurate description of an exciting new vocalist named Fred Hughes.

It doesn't matter too much where ho was born, where he was raised or how ho got started singing. You listen and you somehow know he's been to the right school and he's learned his lessons well. He's paid his dues and tolls it like it's supposed to be told. His hit recording of Baby Boy, which is the title of this first Brunswick album of his, promised there was a big and successful future for him in the music business. This now album is a giant step towards realizing that goal.

Whether he sings songs like that wonderful standard from "Funny Girl" called People, or whether its Dallas Frazier's soulful The Son Of Hickory Hollow's Tramp, or whether its one of the all-time evergreens like Hoagy Carmichael's Georgia On My Mind you know Fred Hughes means business. He's a major league talent in every respect, as you'll hear on the other songs in this collection, which include both old and new, some funky and some blue.

Each selection Is sung with a whole lot of style, as distinctive and original as you could over hope to hoar. BABY BOY is just the beginning of what all of us at Brunswick Records believe will bo a long and brilliant career for a new voice in town, Fred Hughes.