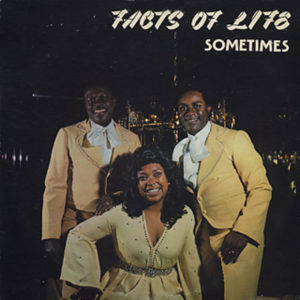 Debut Album produziert von Millie Jackson
inkl. der Single "Sometimes" (Original von Bill Anderson)
mehr Infos zum Album: Wikipedia
Album Liner Notes:

The Facts of Life is a mixed group stationed in both New York and Chicago.
The group was formed by Millie Jackson, because she knew and respected the talent of each individual. Miss Jackson, who is their producer and manager, said, "They were all friends of mine and they all wanted to record, and not having the time to produce them all individually, I put them all in one group. They all were single artists and the only thing I was worried about was what they would be as a group, and how to combine that much talent." To explain what she meant…

Keith William, born under the astrological sign of Aries, has sung with the Imperials and was the lead vocal on the record "Buffalo Soldiers" with the Flamingos, and many groups singing today. Keith says his hobbies are handball, tennis, track and Making Love.

Jean Davis, born under the astrological sign of Saggitarius, was born in Veto, Alabama.
She started singing in church at the ago of 10. She sang all through
high school with her older sister and traveled with their band techer. Jean moved from Alabama to Chicago to live with her older brother, Tyronne Davis. She says it was Tyrone who influenced her singing, because he let her sing on the shows with him. After his first hit record, she co-starred with him for 4 1/2 years through the U.S. and Europe.

Chuck Carter, born under the sign of Aquarius, has recorded as a single artist before. He had a record entitled "Pretty Little Brown Skin Girl" and two years later another, entitled "A Teardrop Fell". Both record did very well in the Southeast.
He majored in Political Science at Alabama State College. There ain't too many known artist he hasn't opened shows for. His hobbies are Cosmetology, Karate, and has been a part-time Barber.

As a group, they were first recorded under the name The Gospel Truth. Their first record under that name was "Up Hill Peace of Mind". A good song but most people thought they were a gospel group. Since the name was so confusing, their manager changed their name to The Facts of Life. Their next record, "Caught In the Act", was not a smash hit but it really introduced the group to the music industry. Some stations thought the record was too suggestive to play, but they were introduced to the market. Their new release, "Sometimes," is a hit and I betcha that's of Facts of Life!!