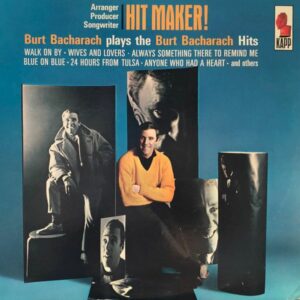 Das Debut Album mit dem Untertitel: "Burt Bacharach plays the Burt Bacharach Hits".
Viele Songs wurden bereits in den Jahren zuvor von Künstlern veröffentlicht wie Dionne Warwick ("Walk On By", "Don't make me over"), Bobby Vinton ("Blue on Blue"), Sandie Shaw ("(There's) Always Something There to Remind Me") und Jack Jones ("Wives and Lovers").
Alle Songs auf diesem Album sind geschrieben von Burt Bacharach und mit Lyrics von Hal David.
mehr Infos zum Album: Wikipedia